The Bracket: Final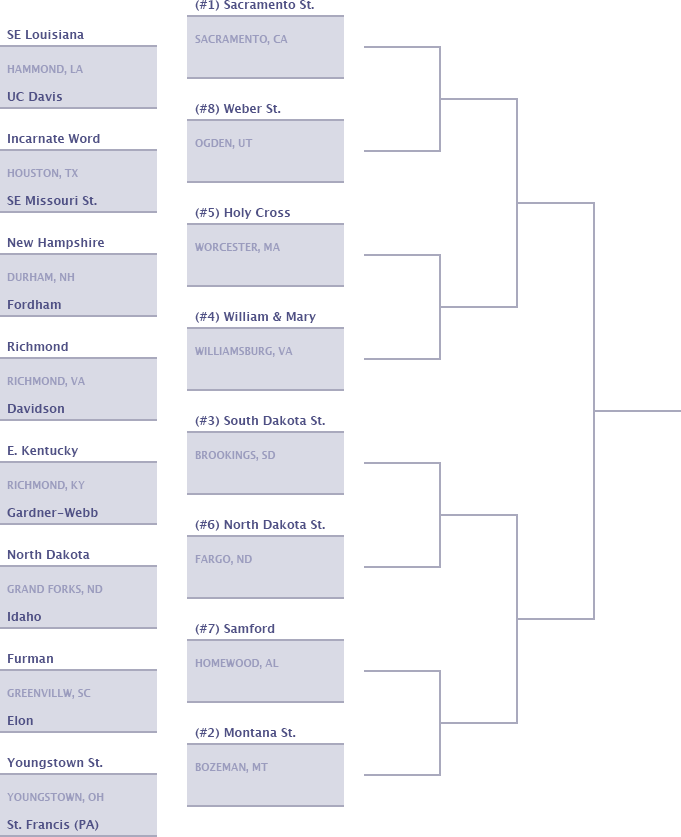 Posted Saturday, November 12, 2022 10:35 PM ET
Week 12: The Final Bracket
I need a drink.
Quick Notes
The bubble is absolute chaos. I would not be surprised if any combination of my first four in/first four out are swapped on Selection Sunday.
The seeds are tight at the bottom. Many teams (Hello, Incarnate Word!) can make a strong case for a to 8 seed.
Tune into ESPNU at 12:30 PM ET tomorrow to find out the real deal!
Breaking It Down
Selecting the Field
Every week's bracket is based on an "If the season ended today" mindset. The 10 automatic bids are just that: automatic. Whichever team is atop the standings of each of the 10 auto-bid conferences at the end of the week receives a bid. Expectedly, teams on top of conference standings early in the season often are not in the same spot come Selection Sunday. The other 6 bids, the at-large selections, are simply the teams I believe to be the best remaining in the country.
The Pairings
All match-ups in these brackets are my best attempts at mimicking what the committee would do with the chosen 16 teams while adhering to these rules:
Seeding the top four teams and spacing them accordingly across the bracket
Avoiding first round match-ups with teams from the same conference that have played each other in the regular season
Creating geographically-friendly match-ups using the announced approved host institutions
"This is garbage..."
Comments? I'm itching to hear your praise/raging hatred. Sound off to erik@nobowls.com and let me know what's on your mind.