The Bracket: Week 9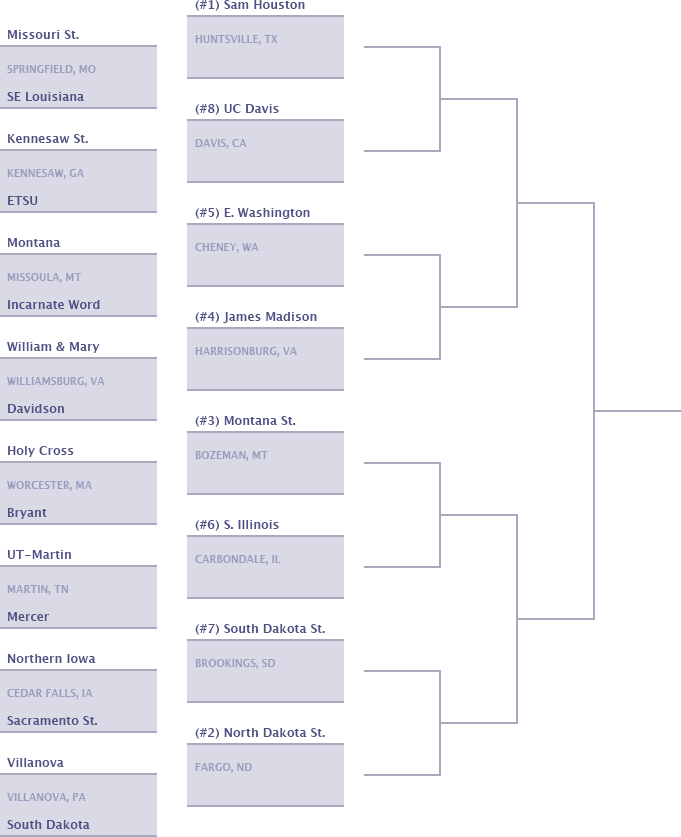 Posted October 30, 2016 5:52 PM EST
Week 9: Goodbye October, Hello November
With three weeks left, it's put up or shut up time for a lot of 3-loss teams hanging out around the bubble.
Quick Notes
South Dakota State loses their seed as quick as they gained it after falling to Illinois State Saturday. Perhaps a little NDSU hangover? Chattanooga slips in with the #8 seed.
Maine sneaks in the field this week with the final at-large spot thanks in part to their 5-game win streak.
Games to watch this weekend: Samford at The Citadel, James Madison at Richmond, Youngstown State at North Dakota State, Eastern Washington at Cal Poly
Breaking It Down
Selecting the Field
Every week's bracket is based on an "If the season ended today" mindset. The 10 automatic bids are just that: automatic. Whichever team is atop the standings of each of the 10 auto-bid conferences at the end of the week receives a bid. Expectedly, teams on top of conference standings early in the season often are not in the same spot come Selection Sunday. The other 14 bids, the at-large selections, are simply the teams I believe to be the best remaining in the country. Keep in mind again this is not a prediction of what I think the brackets will look like in late November, but rather a collection of deserving teams week to week.
The Pairings
All first and second round match-ups in these brackets are my best attempts at mimicking what the committee would do with the chosen 24 teams while adhering to these rules:
Seeding the top eight teams and spacing them accordingly across the bracket
Avoiding first round match-ups with teams from the same conference
Creating geographically-friendly match-ups that follow the NCAA's 400-mile limitations when possible
Avoiding lopsided halves of the bracket if a conference has four or more schools in the field.
Giving home field advantage to schools that historically have made winning bids
"This is garbage..."
Comments? I'm itching to hear your praise/raging hatred. Sound off to erik@nobowls.com and let me know what's on your mind.