Note: The first bracket of the 2017 season will be released after Week 6 on Sunday, October 8th.
2016 Pre-Saturday Final Prediction/Scenario Special
We're trying something new this year! Instead of waiting until Saturday 11/19 night to compile a final bracket that will only be relevant for a few overnight hours, we're going to take an in-depth look at several probable outcomes and scenarios. Let's do this.
Where do we start? Vegas, of course! Here is the list of Saturday's upcoming playoff-relevant games with point spreads. For the sake of the scenario brackets, we will assume 7+ point favorites win (I'll comment on even more possibilities later), and explore all permutations in the "toss-up" games.
TD+ Favorites
Coastal Carolina (-7.5) beats Liberty
E. Washington (-20.5) beats Portland St.
James Madison (-31.5) beats Elon
Charleston Southern (-8.5) beats Kennesaw St.
Richmond (-14.5) beats William & Mary
Villanova (-10.5) beats Delaware
Wofford (-23.5) beats VMI
Montana (-15.5) beats Montana St.
North Carolina A&T (-14.5) beats NC Central
Jacksonville St. (-16.5) beats UT-Martin
North Dakota St. (-16.5) beats South Dakota
Samford (-28.5) beats East Tenn St.
North Carolina (-21.5) beats The Citadel
Weber State (-11.5) beats Idaho St.
Alabama (-47.5) beats Chattanooga
Cal Poly (-10.5) beats N. Colorado
Toss-up Games
Central Arkansas (-1) at Sam Houston St.
New Hampshire (-2.5) at Maine
W. Illinois (-2.5) at S. Illinois
Stony Brook at Albany (-4.5)
South Dakota St. at Northern Iowa (-4.5)
The first bracket you see below is my predicted bracket if all Saturday's games go the way of the Vegas favorites. Use the scenario links above the bracket to change the bracket based on all possible combination of outcomes in the "toss-up" games.
Different Scenarios (Each link changes bracket image): Maine beats UNH | WIU loses | Albany loses | SDSU beats UNI | Maine beats UNH + WIU loses | Maine beats UNH + Albany loses | Maine beats UNH + SDSU beats UNI | WIU loses + Albany loses | WIU loses + SDSU beats UNI | Albany loses + SDSU beats UNI | Maine beats UNH + WIU loses + Albany loses | Maine beats UNH + Albany loses + SDSU beats UNI | WIU loses + Albany loses + SDSU beats UNI | All toss-up games get reversed | Odds-on favorites win (original bracket)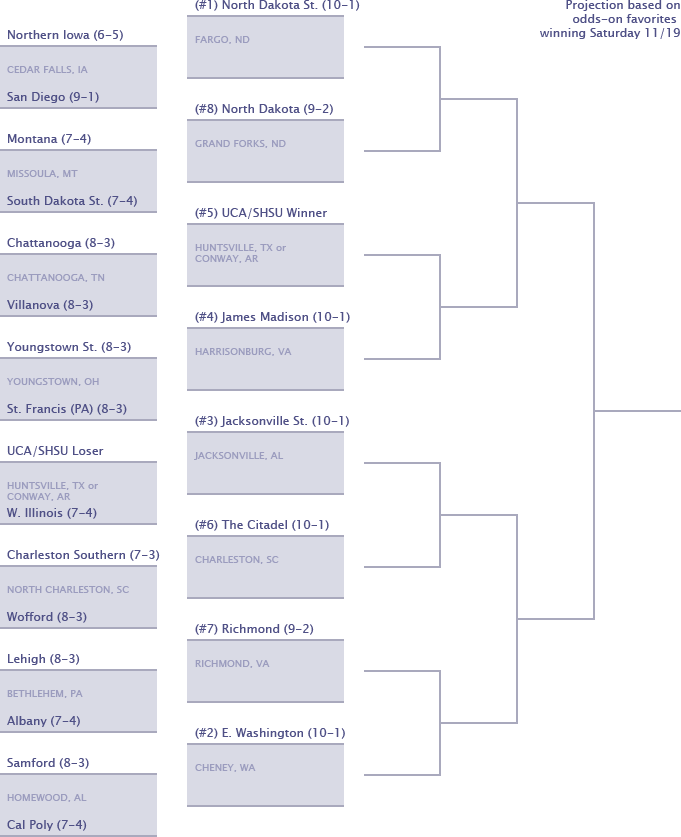 Posted November 17, 2016 9:58 AM EST
Overview
What if one of the 7+ point underdogs wins? Paradoxically, it's a statistical likelihood that at least one of those heavier underdogs will win. So let's take a look at the overall numbers.
Locks (17) - Teams safely in regardless of outcome Saturday:
North Dakota, Eastern Washington, Big South Winner (Likely CSU), James Madison, Richmond, Villanova, North Dakota State, South Dakota State, Youngstown State, St. Francis (PA), Jacksonville State, Lehigh, San Diego, The Citadel, Chattanooga, Sam Houston State, Central Arkansas
Virtual Locks (2) - Teams that need to win Saturday, and will easily:
Samford, Wofford
That leaves five teams battling it out on the bubble. Some teams likely control their own destiny, while others need to pray for utter chaos on Saturday. I break it down below, in rough order of most probable to least probable.
A quick note on the seeds: For what it's worth, I would swap the seeds for both EWU/NDSU and JMU/Jax State, but decided to go with this week's committee rankings for this special.
The Bubble: Team-By-Team Breakdown
Cal Poly (6-4)
Saturday: 10.5-point favorites vs. Northern Colorado
With one of the toughest schedules in FCS, Cal Poly punches their ticket with a win.
Montana (6-4)
Saturday: 15.5-point favorites vs. Montana State
It's pretty simple for Montana, too. Win and they're in.
Western Illinois (6-4)
Saturday: 2.5-point favorites at Southern Illinois
Another "win and they're in" scenario for WIU, but a much tougher game traveling to Carbondale.
Albany (6-4)
Saturday: 4.5-point favorites vs. Stony Brook
Albany is not a lock at 7-4, but wins over FBS Buffalo, NEC Champs SFU, and bubble partner UNH make a probably-good-enough case.
Maine (6-4)
Saturday: 2.5-point underdogs vs. New Hampshire
A 7-4 Maine would be ahead of a 7-4 Albany on the bubble rankings, but that requires the Black Bears to win the Battle for the Brice-Cowell Musket; something they've only done once in the last 14 years.
New Hampshire (6-4)
Saturday: 2.5-point favorites at Maine
Speaking of the Brice-Cowell Musket, UNH will be squarely on the bubble if they beat Maine to end the regular season at 7-4. They will likely need one of the teams above Maine to lose to feel comfortable on Selection Sunday.
Northern Iowa (5-5)
Saturday: 4.5-point favorites vs. South Dakota State
Yes, you read that correctly. Even at 5-5, UNI is favored to beat the team currently holding the auto-bid of the best conference in FCS. I think UNI deserves a bid if they win (Seriously, go look at this schedule.), but it's a big "if" at this point. SDSU will be battling for a seed.
Weber State (6-4)
Saturday: 11.5-point favorites at Idaho State
Weber State may be the heart of the bubble. I'd put their pre-Saturday chances of a bid at 50/50. Cal Poly winning would help their argument.
Illinois State (6-5)
Saturday: Regular season over
Here's another dangerous team with impressive wins over FBS Northwestern, South Dakota State, and Western Illinois. Unfortunately for the Redbirds, they had a horrendous mid-season stretch where they lost five of six games. By my calculations, Illinois State needs at least three bubble teams to lose to have a good chance.
Northern Colorado (6-4)
Saturday: 10.5-point underdogs at Cal Poly
With an upset win Saturday, Northern Colorado is squarely on the bubble and could easily earn an at-large bid. Feel free to sub them out with Cal Poly in any of the above brackets to get an idea of who/where they might play.
Liberty (6-4)
Saturday (Thursday, actually): 7.5-point underdogs at Coastal Carolina
Liberty is in a unique, hopeful-but-not-probable situation. They still have a path to the Big South auto-bid if Kennesaw State upsets Charleston Southern on Saturday. But even regardless of that game, an upset win over Coastal would throw them right into the bubble mix.
Fordham (7-3)
Saturday: 6.5-point favorites at Bucknell
Entering the outer bubble now. Fordham will likely need four bubble teams to fall. That math starts to get difficult when you realize two pairs of bubble teams are playing each other.
Tennessee-Martin (7-4)
Saturday: 16.5-point underdogs at Jacksonville State
Could they do it? An upset here would be bad news for those teams sweating on the bubble. UT-Martin would actually steal the OVC auto-bid with a win over the Gamecocks.
The 2nd Place MEAC Team
Saturday: North Carolina A&T (9-1), 14.5-point favorites at North Carolina Central (8-2)
Here's another unique situation that could steal a bid off the bubble. Since 2015, the MEAC Champion forgoes the FCS playoffs to play the SWAC Champion in the new Celebration Bowl. Second place teams from either conference can still receive playoff bids, though historically, the second best teams from these conferences aren't good enough. If NC A&T loses, they have a strong enough resume to steal an at-large bid. NCCU's chances of a bid are much, much slimmer if they end up second.
Duquesne (7-3)
Saturday: 16.5-point favorites vs. Central Connecticut State
This is a long shot, no doubt. Would need just about every bubble team to lose. But hey, 8 D1 wins?
"This is garbage..."
Comments? I'm itching to hear your praise/raging hatred. Sound off to erik@nobowls.com and let me know what's on your mind.