The 2018 Final Bracket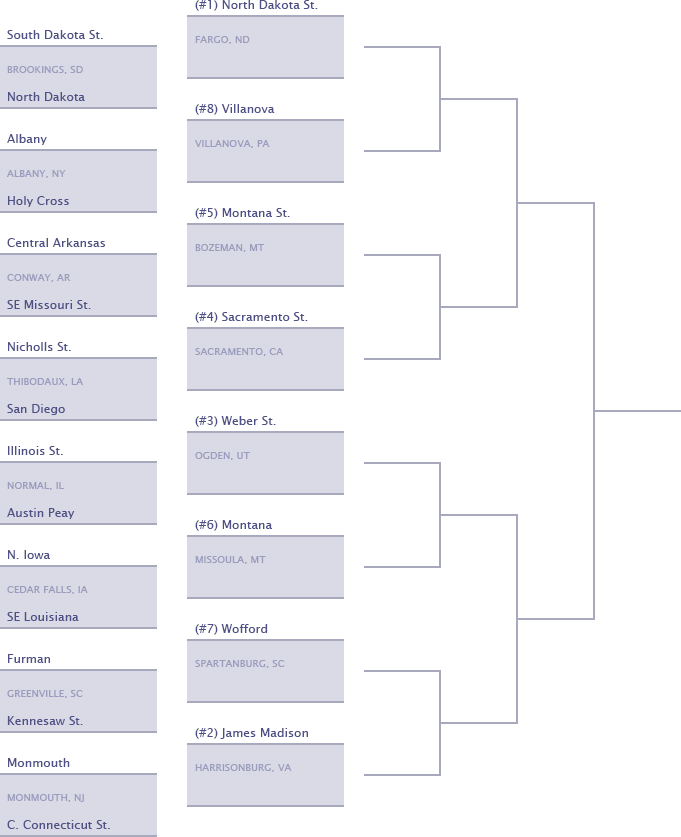 Posted November 17, 2018 8:49 PM EST
Week 12: The Final Bracket
I feel oddly confident about the at-large field. The seeds, though...woof. I would not be surprised to see Maine as a seed in place of Colgate, JMU, or UC Davis.
Tune into ESPNU at 12:30 PM ET tomorrow to see the real deal! In the meantime, feel free to fire off questions on Twitter @NoBowls.
Breaking It Down
Selecting the Field
Every week's bracket is based on an "If the season ended today" mindset. The 10 automatic bids are just that: automatic. Whichever team is atop the standings of each of the 10 auto-bid conferences at the end of the week receives a bid. Expectedly, teams on top of conference standings early in the season often are not in the same spot come Selection Sunday. The other 14 bids, the at-large selections, are simply the teams I believe to be the best remaining in the country. Keep in mind again this is not a prediction of what I think the brackets will look like in late November, but rather a collection of deserving teams week to week.
The Pairings
All first and second round match-ups in these brackets are my best attempts at mimicking what the committee would do with the chosen 24 teams while adhering to these rules:
Seeding the top eight teams and spacing them accordingly across the bracket
Avoiding first round match-ups with teams from the same conference
Creating geographically-friendly match-ups that follow the NCAA's 400-mile limitations when possible
Giving home field advantage to schools that historically have made winning bids
"This is garbage..."
Comments? I'm itching to hear your praise/raging hatred. Sound off to erik@nobowls.com and let me know what's on your mind.